Create your Supervisor Space for free.
For
HR representatives, executives

, or

university administrators

, the Supervisor Space allows you to test our products and have them tested, assess your group's level, evaluate their needs, provide certified training, etc.

By entering your email, you agree to our Terms of Use and consent to our Privacy policy (to summarize, we respect your confidentiality and right to privacy!). Since our lessons are sent by email, you will receive emails from us! You can unsubscribe at any time.

I am not a training or HR manager, company or university director.
Thank you!
We've sent you an email - please click the link within it to confirm your registration.
Your request has not been taken into account because your e-mail address already exists in our data base.
- If you wish to log in,
please click here.
- If you wish to re-test Gymglish, please enter a different e-mail address.
- If you wish to contact our support team,
please click here.
Whoops. We weren't able to handle your request. Please contact our support team (support@gymglish.com) and alert them to the following message:


We apologize for the inconvenience.

The Gymglish team
---
Opportunities for HR representative, executive or university administrator.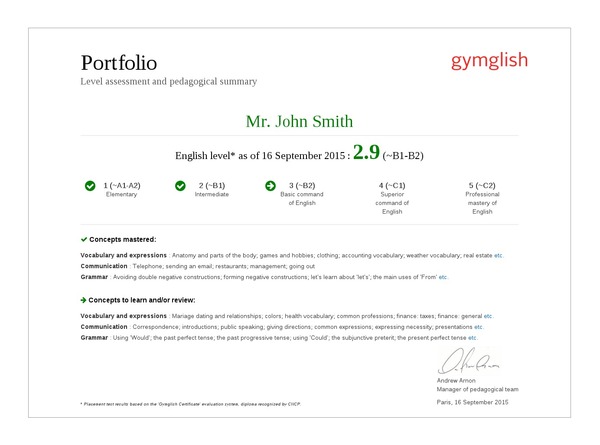 Level assessment
Our free test includes a level assessment and a Portfolio (a personalized pedagogical report).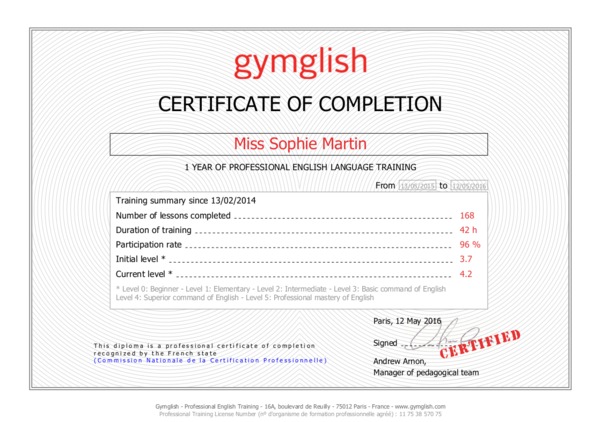 Diploma & Certification
Upon finishing your training, Gymglish provides a certificate of completion (Gymglish Certificate) including detailed statistics on progress and participation rate.
---
HR Supervision Tools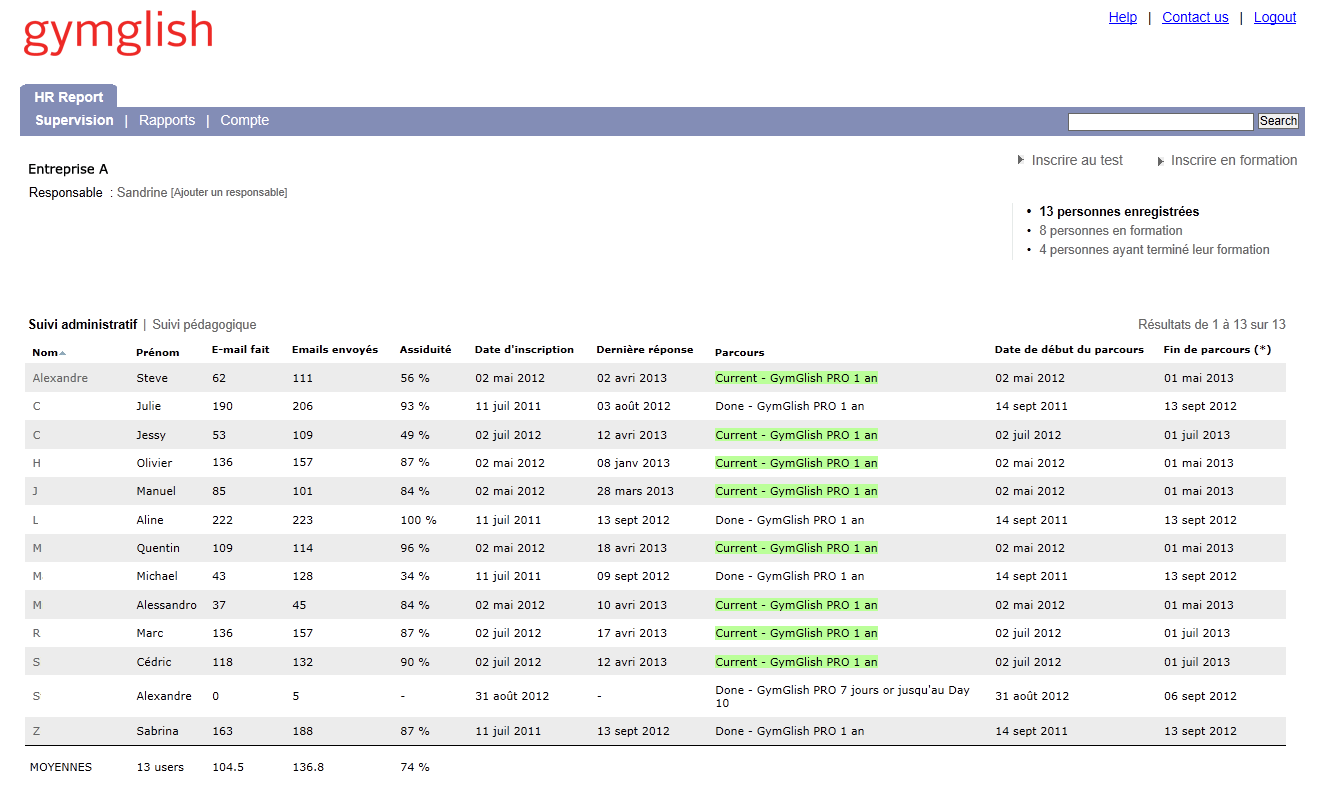 The dedicated HR supervision space allows training managers to monitor the progress of their students, as well manage accounts and subscriptions. It includes a dashboard showing the level, progress, participation rate for individuals and the group, etc.
---
Teacher brief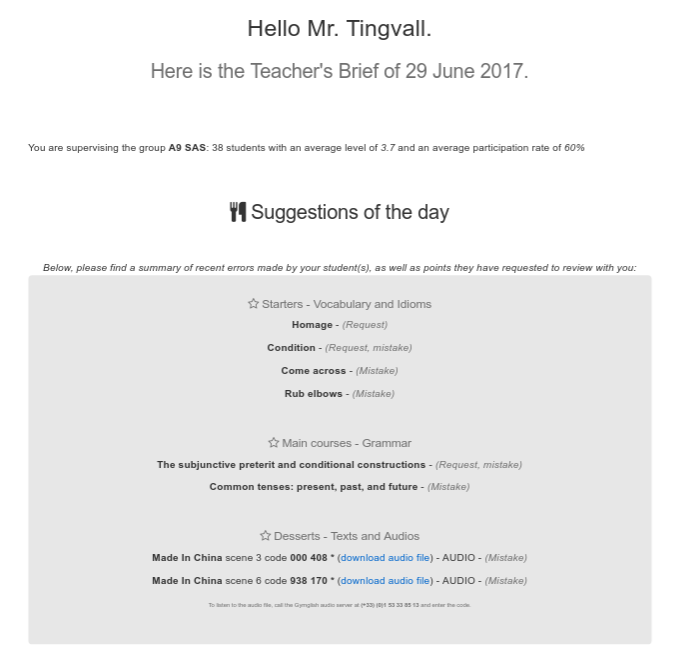 Gymglish & Teacher is an option for teachers to complement their existing classes (one on one, group, telephone, etc) with Gymglish's pedagogy and lessons. This 'Blended Learning' approach consolidates and records student errors, requests and points of difficulty, and lists them in a synthesized report for the professor before every course.
---
How it works
1 Each morning you'll receive a lesson with an assortment of written content and audio recordings. Each lesson takes fifteen minutes to complete and includes a story about the Delavigne Corporation with dialogues, questions, 'mini-lessons' and revisions.
2 After clicking the ' send ' button, you'll receive your corrections with your score of the day, explanations on why you got each question right or wrong, transcripts of the audio recordings, the vocabulary you wanted to learn more about, etc.
3 The next lessons will be customized according to your previous answers, your expectations and your needs. Gymglish uses your mistakes to develop a personalized lesson plan for you.
Only 15 minutes per day to improve your English.
---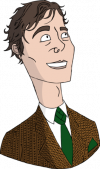 After all these years, I've finally improved my English and now I have no problem understanding conversations or watching films without subtitles.
Samuel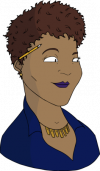 Gymglish's lessons helped me improve my skills in only fifteen minutes a day!
Anna - More testimonials >
Over
3,000,000

users around the world