Les parties du corps
French Grammar tips with Frantastique.
Improve your French and test our online French lessons for free.
Les parties du corps
la tête
the head
la main
the hand
le bras
the arm
la jambe
the leg
les pieds
the feet
les fesses
the bottom
le dos
the back
l'épaule
the shoulder
le ventre
the stomach
le genou
the knee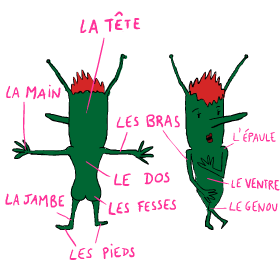 Going further...
Learn more about French grammar with us. Still having difficulties with 'Les parties du corps'? Want to improve your French? Test our online French lessons and receive a free level assessment!