Les questions courantes
French Grammar tips with Frantastique.
Improve your French and test our online French lessons for free.
Les questions courantes
Que fais-tu dans la vie ? What do you do for a living?
Je suis physicien nucléaire. I'm a nuclear physicist
Quel âge as-tu ? How old are you?
J'ai 18 ans. I'm 18 years old.
Ça fait combien de temps que tu es ici ? How long have you been here?
(Ça fait) 2 mois, 2 semaines et 4 jours. (For) 2 months, 2 weeks, and 4 days.
Où habites-tu ? Where do you live?
J'habite à Nice, dans le sud de la France. I live in Nice, in the south of France
D'où viens-tu ? Where are you from?
Je viens d'Allemagne, mais j'ai beaucoup vécu à Stockholm. I'm from Germany, but I lived in Stockholm for long time.
Quand est ton anniversaire ? When is your birthday?
(Mon anniversaire est) le 15 juillet. (My birthday is) July 15th.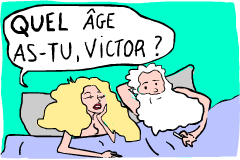 Going further...
Learn more about French grammar with us. Still having difficulties with 'Les questions courantes'? Want to improve your French? Test our online French lessons and receive a free level assessment!