Quelques mots courants sur la nourriture
French Grammar tips with Frantastique.
Improve your French and test our online French lessons for free.
Quelques mots courants sur la nourriture
• Here are some common fruits. Note that les fruits (fruit) is a countable noun in French (un fruit, deux fruits).

Une banane
A banana
Une pomme
An apple
Une poire
A pear
Un melon
A melon
Une orange
An orange
Un citron
A lemon
Du raisin
Grapes
Un ananas
A pineapple
Une fraise
A strawberry
Une framboise
A raspberry
Un kiwi
A kiwi
Une mangue
A mango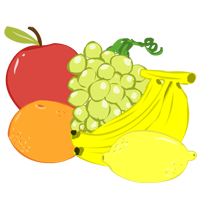 • Here are some common vegetables (les légumes in French):

Un haricot vert
A green bean, a French bean
De l'ail
Garlic
Une courgette
A courgette / zucchini
Une aubergine
An aubergine / eggplant
Un poivron
A pepper / bell pepper
Une carotte
A carrot
Du chou
Cabbage
Un brocoli
Broccoli
Une salade
Salad
Un fenouil
Fennel
Un navet
A turnip
Un oignon
An onion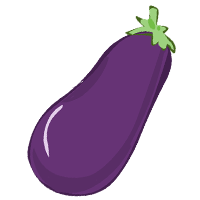 • Here are some different types of meat (la viande in French):

Du poulet
Chicken
Du canard
Duck
De l'agneau
Lamb
Du bœuf
Beef
Du porc
Pork
Du veau
Veal
Du mouton
Mutton
Du cheval
Horse meat
Du lapin
Rabbit
Du coq
Rooster, cock, cockerel
De la dinde
Turkey
De la volaille
Poultry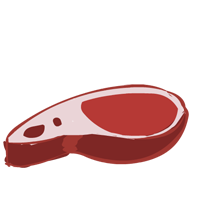 Going further...
Learn more about French grammar with us. Still having difficulties with 'Quelques mots courants sur la nourriture'? Want to improve your French? Test our online French lessons and receive a free level assessment!