Trinquer
French Grammar tips with Frantastique.
Improve your French and test our online French lessons for free.
Trinquer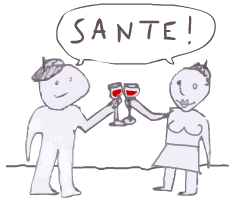 Quelques expressions quand on veut trinquer avec quelqu'un :
Tchin Tchin !
Santé !
À la tienne !
this is said to someone you know well
À la vôtre !
this is said to a group or someone you treat politely
Going further...
Learn more about French grammar with us. Still having difficulties with 'Trinquer'? Want to improve your French? Test our online French lessons and receive a free level assessment!