CERTIFIED TRAINING COURSE
IN BUSINESS ENGLISH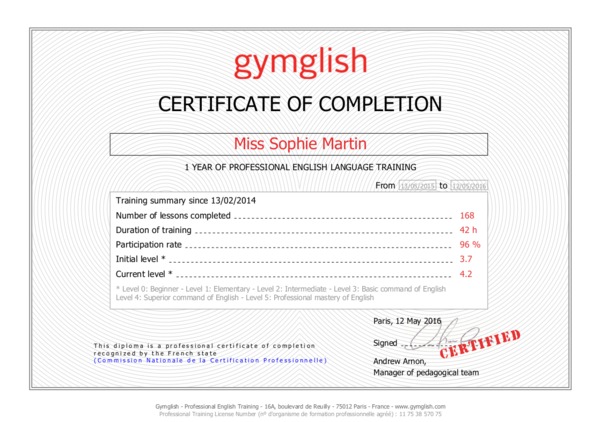 Diploma & Certification
Upon finishing your training, Gymglish provides a certificate of completion (Gymglish Certificate) including detailed statistics on progress and participation rate.
How does it work?
1
Each morning you'll receive a lesson with an assortment of written content and audio recordings. Each lesson takes fifteen minutes to complete and includes a story about the Delavigne Corporation with dialogues, questions, 'mini-lessons' and revisions.
2
After clicking the ' send ' button, you'll receive your corrections with your score of the day, explanations on why you got each question right or wrong, transcripts of the audio recordings, the vocabulary you wanted to learn more about, etc.
3
The next lessons will be customized according to your previous answers, your expectations and your needs. Gymglish uses your mistakes to develop a personalized lesson plan for you.
Only 15 minutes per day to improve your English.
Fun, practical, business-related content
We decided to create scenarios for all of the content by using a deliberately humorous tone and by referencing up-to-date topics that interest all of us on a daily basis: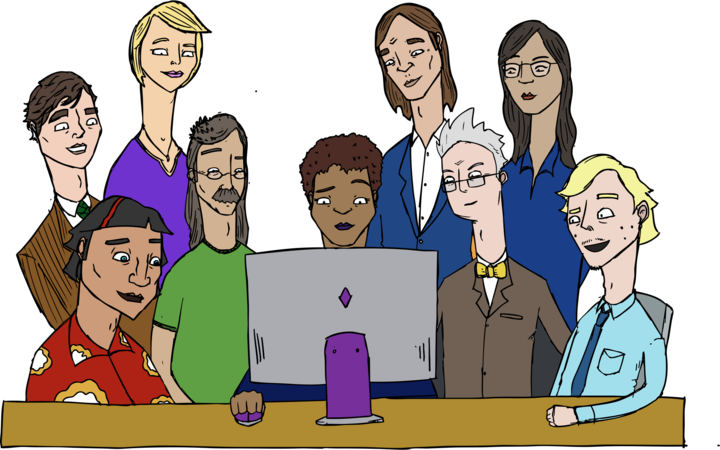 The Delavigne Corporation : a fictional perfume company in San Francisco. A family-owned, multinational company.
Different characters with a variety of accents and jobs.
Humor and situations in the workplace. Stories about corporate life, its common problems, meetings, e-mails, and telephone conversations...but also the conversations around the water cooler, trips, cultural differences, and more.
Our references

EDU Pricing (tax excluded)
| | | | |
| --- | --- | --- | --- |
| | Max. Number of lessons | Max. Duration | Price |
| 6 months | 120 lessons | 30 hours | 52.5 € / license |
| 9 months | 180 lessons | 45 hours | 67.5 € / license |
| 12 months | 240 lessons | 60 hours | 75 € / license |
| | | | |