Bepaal het niveau van je groep,
Evalueer hun behoeften, Bied gecertificeerde training,
Verbeter de vaardigheden van je collega's of leerlingen.
HR-vertegenwoordigers, directieleden of universiteitsbestuursleden beginnen hier
Door uw e-mailadres in te voeren, gaat u akkoord met onze Gebruiksvoorwaarden en ons Privacybeleid (samengevat: we respecteren uw vertrouwelijkheid en uw recht op privacy!). Omdat onze lessen via e-mail worden verstuurd, zult u e-mails van ons ontvangen. U kunt zich hier altijd voor afmelden.
Bedankt!
We hebben je een e-mail gestuurd. Klik op de link om je registratie te bevestigen.
Je verzoek is niet in behandeling genomen omdat je e-mailadres al in onze database voorkomt.
- Wil je Frantastique opnieuw uitproberen, voer dan een ander e-mailadres in.
-
Klik hier
als je contact wilt opnemen met ons ondersteuningsteam.
Oeps. We kunnen je verzoek niet in behandeling nemen. Neem contact op met ons ondersteuningsteam (support@frantastique.com) en geef de volgende boodschap door:


Onze excuses voor het ongemak.

Het Frantastique-team
---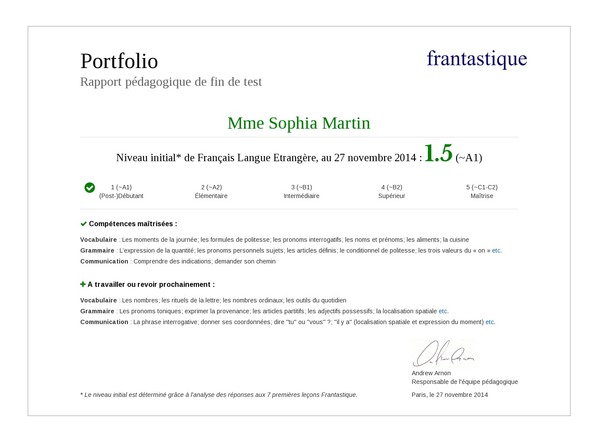 Niveau beoordeling
De test bestaat uit een niveaubeoordeling en een 'Portfolio' (een persoonlijk pedagogisch verslag).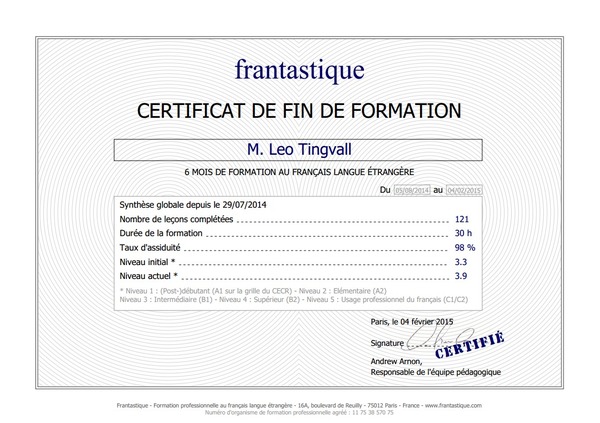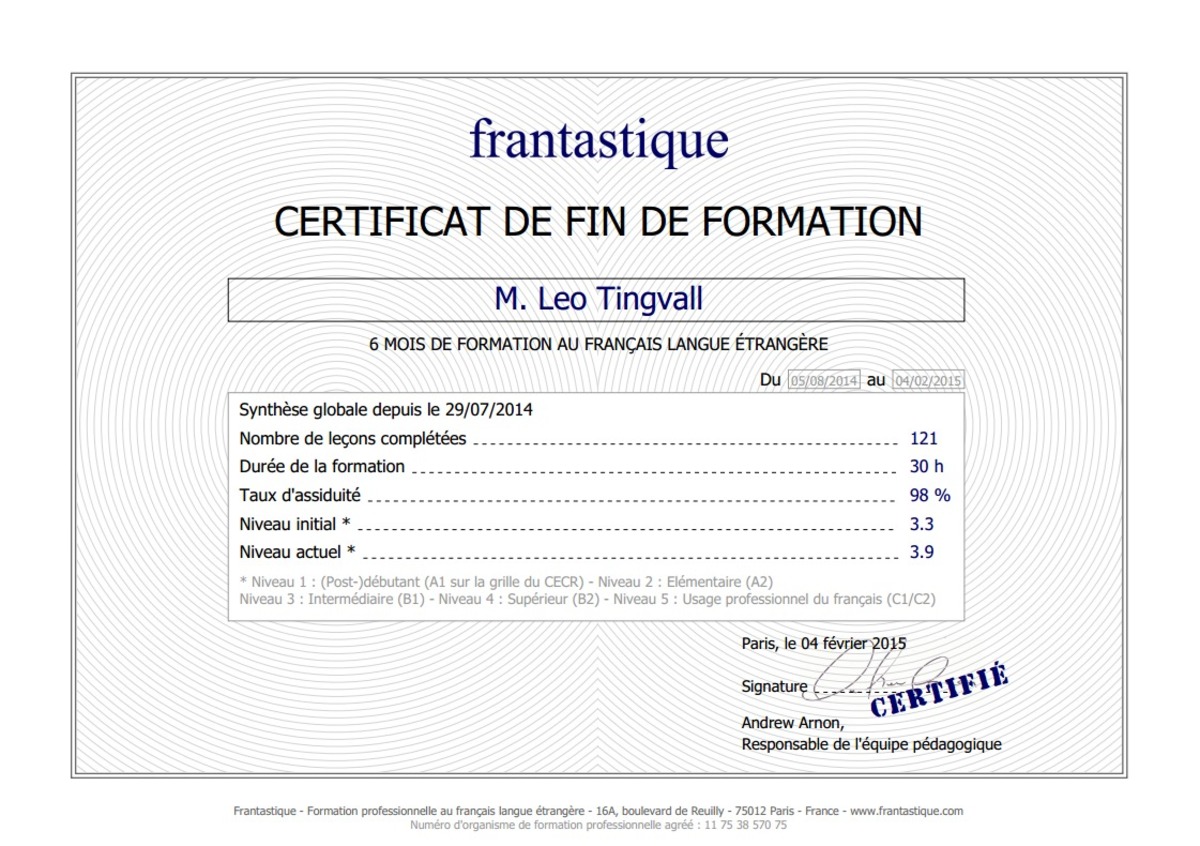 Certificaat
Wanneer u uw opleiding beëindigt, geeft Frantastique u een certificaat van voltooiing met gedetailleerde statistieken over uw vorderingen en deelnemingspercentage.
---
Hoe werkt het:
1 Elke dag ontvangt u een selectie oefeningen, teksten, dialogen en minilessen in het Frans. Hieronder vallen originele verhalen en historische feiten die voldoen aan uw niveau en doelstellingen.
2 Wanneer u uw antwoorden doorstuurt, ontvangt u een verbeteringse-mail met uw score voor de les van die dag, samen met persoonlijk aangepaste toelichtingen en informatie.
3 De rest van de cursus is aangepast aan uw persoonlijke wensen, behoeften en leersnelheid. Elke les wordt samengesteld door een programma dat de nadruk legt op punten die u moeite kosten, samen met de door u verzochte onderwerpen.
---
Meer dan 4000000 mensen gebruiken onze methode