| | | |
| --- | --- | --- |
| | & | |
Lezioni di inglese online
Gymglish offre lezioni di inglese personalizzate mediante e-mail giornaliere. Ogni lezione ti presenta un nuovo capitolo della saga dei Delavigne di San Francisco e include humor, inglese commerciale, diversi accenti e altro ancora.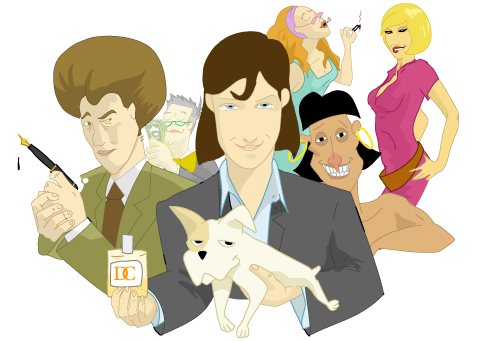 Completa il modulo sottostante per provare Gymglish gratuitamente per 7 giorni.
Inserendo il tuo indirizzo email, accetti i nostri Termini d'uso e la nostra Informativa sulla privacy (in poche parole, rispettiamo la confidenzialità dei tuoi dati e il tuo diritto alla privacy). Poiché le nostre lezioni sono inviate tramite email, riceverai email da parte nostra! Puoi revocare il consenso quando vuoi.
---
Ecco come rendiamo semplice l'apprendimento:
1 Ogni mattina riceverai una e-mail con contenuti scritti e registrazioni audio. Ogni lezione può essere completata in quindici minuti e include un capitolo della storia della Delavigne Corporation con dialoghi, domande, 'minilezioni' e revisioni.
2 Dopo aver cliccato sul pulsante 'send', riceverai le correzioni con il punteggio del giorno, le spiegazioni sulle risposte esatte o errate, le trascrizioni delle registrazioni audio, il lessico sul quale desideri saperne di più, eccetera.
3 Le lezioni successive saranno personalizzate in base alle tue risposte precedenti, alle tue aspettative e alle tue esigenze. Gymlish utilizza i tuoi errori per sviluppare un piano di insegnamento su misura per te.
---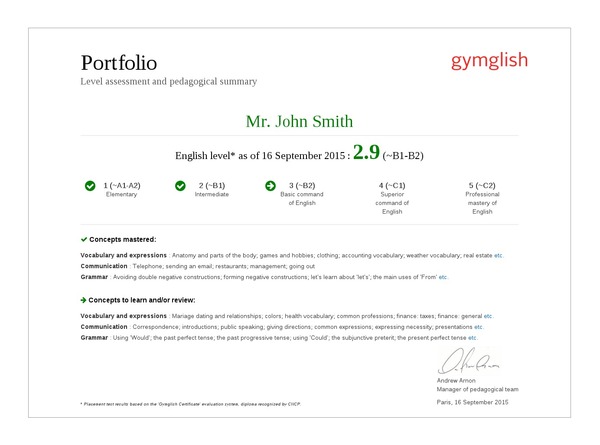 Test di livello
La prova gratuita include una valutazione del tuo livello e un 'Portfolio' (una relazione pedagogica personalizzata).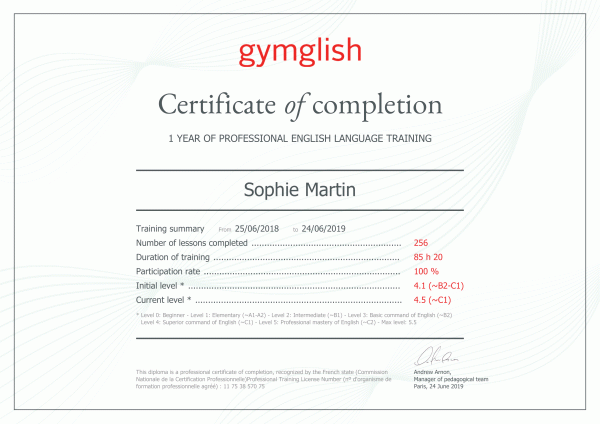 Diploma e Certificazione
Una volta terminata la formazione, Gymglish ti fornirà un certificato di completamento (Certificato Gymglish) in cui troverai statistiche dettagliate sui tuoi progressi e il tasso di partecipazione.
---
Oltre
4000000

utenti in tutto il mondo

Cosa dicono di noi i nostri utenti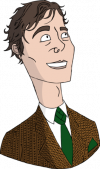 Sono un fan delle mie lezioni d'inglese e apprezzo tanto il lavoro fatto dal team di Gymglish. Dopo tanti anni, ho finalmente migliorato il mio inglese e ora non ho difficoltà nel comprendere le conversazioni o nel guardare film senza sottotitoli.
Samuel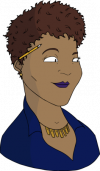 Le lezioni d'inglese di Gymlish utilizzano un approccio rivoluzionario! Mi hanno aiutato a sviluppare le mie capacità in soli quindici minuti al giorno! Ora riesco ad esprimermi meglio e capisco molto di più le conversazioni!
Anna - More testimonials >
Oltre
4000000

utenti in tutto il mondo

---
Un modo facile e divertente per imparare l'inglese
Success! You will receive an e-mail with more details shortly. Download the Gymglish App for free:

IMPORTANT: In order to make sure you receive all the lessons, please add our e-mail address ('gymglish.en@faq.gymglish.com') to your address book or 'white list' of safe senders.


You may find this interesting:
Purtroppo non abbiamo potuto prendere in carico la tua richiesta perché l'indirizzo e-mail fornito è già presente nel nostro database.
- Se desideri provare di nuovo Gymglish, inserisci un altro indirizzo e-mail.
- Se desideri contattare il nostro team di assistenza,
fai clic qui:
Ops! Non siamo riusciti a prendere in carico la tua richiesta. Contatta il nostro team di assistenza (support@gymglish.com) e avvisali con il messaggio seguente:


Ci scusiamo per l'inconveniente.

Il team di Gymglish