Online
French

lessons
One month of FREE lessons
Learn French daily with an e-mail, a story, and a personalized correction. In each lesson, follow the adventures of Victor Hugo as he explores the Francophone universe. The lessons are humorous, practical and include a wide variety of accents. Our lessons are adapted for post-beginners (from 15 years old).
More than 4 000 000 people use our method!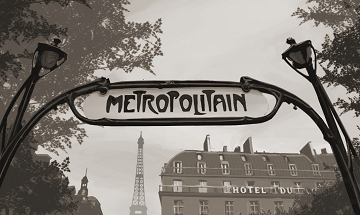 To activate your free month (special offer for new users, with no obligation to buy), just fill in the form below:
Указывая свой адрес эл. почты, вы принимаете наши Условия использования и Политику конфиденциальности (если в двух словах — мы уважаем вашу конфиденциальность и право на защиту личных данных!). Поскольку мы отправляем уроки по эл. почте, вы будете получать от нас письма! Отписаться вы можете в любой момент.
---
How we make learning easy for you:
1 A fun, daily e-mail
Every day, you'll receive a selection of exercises, texts, dialogues, and mini-lessons in French. These include original stories and historical notes that match your level and objectives.
2 Personal feedback
Once you have sent your answers, you will receive a correction with your daily score, as well as personalized explanations and information.
3 Intelligent lessons
The course adapts to your wishes, needs, and learning speed. An artificial intelligence engine builds each lesson to focus on the points you struggle with, as well as the topics you've requested.
---
More than
4 000 000

people use our method

---
The easiest, friendliest way to learn French
---
What our users are saying
One of the biggest advantages is the personalization of the learning process. The short daily schedule (15 minutes for the lesson and 5 to review the correction) helps maintain motivation and participation as it doesn't affect your working day (...).
Steve (San Francisco)
Frantastique is better than just learning French in a traditional way. It allows me to improve my skills. There's no need to spend a lot of time on each lesson, and the mix of pedagogy and cultural references integrated into the adventures of Victor Hugo is much appreciated!
Jackie (Boston)
Your request has been taken into account. In order to help us better personalize your course, please complete the form below:
Указывая свой адрес эл. почты, вы принимаете наши Условия использования и Политику конфиденциальности (если в двух словах — мы уважаем вашу конфиденциальность и право на защиту личных данных!). Поскольку мы отправляем уроки по эл. почте, вы будете получать от нас письма! Отписаться вы можете в любой момент.
Success!
You will receive an email with more details shortly.
Check out other courses and download our free iOS & Android Apps.


Не удалось обработать запрос
, потому что этот адрес эл. почты уже есть в базе данных.
- Для повторного ознакомления с Frantastique введите другой адрес эл. почты.
- Чтобы связаться со службой поддержки,
нажмите сюда.
Ой. Мы не смогли обработать ваш запрос. Свяжитесь со службой поддержки (support@frantastique.com) и расскажите им об этом сообщении:


Приносим извинения за доставленные неудобства.

Команда Frantastique