RICH MORNING
ENGLISH LESSONS FOR BEGINNERS
How it works
1 An English lesson
Each morning, you'll receive a lesson with a new Rich Morning Show, along with a personalized selection of listening and writing exercises in English.
2 An instant correction
After clicking the 'Send' button, you'll receive your correction, including your score of the day and presentations for your answers. Don't worry if you can't remember everything - we'll review these points again in future lessons!
3 Personalized content
The next day, you'll receive a new lesson. As you advance through the course, Rich Morning reviews the things you find difficult so that you remember them for the long term. Learning with Rich is fun and easy!
---
Fun & practical content
We decided to create scenarios for all of the content by using a deliberately humorous tone and by referencing up-to-date topics that interest all of us on a daily basis: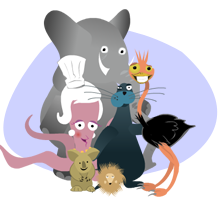 The Rich Morning Show is inspired by American talk shows: a variety of guests, games, music, a cooking segment, etc. It's a funny show, full of surprises each day!
We include plenty of humor in our episodes, in order to make learning fun and keep you motivated. We decided to create scenarios for all of the content by using a deliberately humorous tone. The characters are played by professional actors with a wide variety of accents (American, British, Australian, Asian, South American, etc).
The Rich Morning Show was created by a diverse group of people, each with a different area of expertise: English speakers, French speakers, teachers, students (both 'good' and 'bad'). In order to encourage students to memorize information in the long term, we creats a revision schedule which is adapted to each and every user.
---


Really great because there's lots of things we learn about in lessons. The fact that it's so fun and different helps you learn. Samuel

An ostrich, a seal, llamas, a dog, a parrot... I love animals so it's great! Anna
Over 5,000,000 users around the world
---
Training program
The Rich Morning course have four distinct stages:
Round 1 : 21 personalized lessons with cartoons played at reduced speed, with subtitles. The first stage includes 21 lessons, each based on an animated episode of the Rich Morning Show. Each lesson is comprised of a cartoon (lasting two minutes on average), a selection of questions about the day's show, and a personalized correction e-mail (once you send your answers to the questions). From the second show onwards, the lessons also focus on particular English points which the student struggles with.
Round 2 : 21 personalized lessons with cartoons played at normal speed, with subtitles. In the second round, the shows are watched again at a more normal speed, but still with subtitles. The characters speak at a natural speed, just like in real life. The questions on each show are based on how well the student did in the first round.
Round 3 : 21 personalized lessons with cartoons played at normal speed, without subtitles. The principle remains the same, but this time there are no subtitles. Like in Rounds 1 and 2, each lesson zooms in on particular points covered in the past with which the student has struggled.
Revision: Once the three Rounds have been completed, we begin a final phase, which helps the student to retain all the English that they've learnt. We revise all the topics covered in previous lessons, to make sure that the student has mastered all the points introduced in the earlier phases of the course.
---