A motivation-based approach
There is no use in developing wonderful educational and technological tools if they aren't used. Users must feel motivated and encouraged to continue their progress. Gymglish was designed by a team of people with a variety of personalities and areas of expertise: English-speakers, French-speakers, teachers, high achievers, low achievers....
The educational team has worked hard to create a stimulating learning environment that meets users' expectations. The goal is to make learning as fun as possible.
---
1. A daily e-mail in English
Because the lessons are sent by e-mail, they're quick and easy to use, and you can find the time to complete them whenever you're ready. The lessons come to you, so minimal effort is required on your part, which means our students have great participation rates. There's no need to mess up your schedule to complete your English lesson!
The e-mail format isn't the only factor which encourages our students to complete their lessons. The fact that each lesson features fun characters and a story line, dealt with in a humorous way, also helps! Plus, we cover interesting and useful themes in each lesson.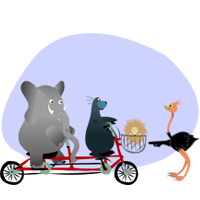 ---
2. The Rich Morning Show
The learning material is included in an editorial path: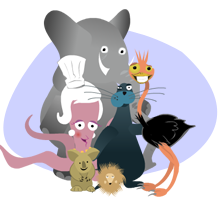 The Rich Morning Show is inspired by American talk shows: a variety of guests, games, music, a cooking segment, etc. It's a funny show, full of surprises each day!


We include plenty of humor in our episodes, in order to make learning fun and keep you motivated. We decided to create scenarios for all of the content by using a deliberately humorous tone The characters are played by professional actors with a wide variety of accents (American, British, Australian, Asian, South American, etc).


The Rich Morning Show was created by a diverse group of people, each with a different area of expertise: English speakers, French speakers, teachers, students (both 'good' and 'bad'). In order to encourage students to memorize information in the long term, our artificial intelligence system, A9expert, creates a revision schedule which is adapted to each and every user.
---
3. Personalization and innovative technology
You answer questions each day, and the teaching content of your lessons adapts throughout the course based on the answers you give, your level, and your ability to memorize new information. The English revision material is personalized by our Artificial Intelligence engine, A9expert, which is at the foundation of Gymglish professional English lessons.
IMMEDIATE CORRECTIONS A9expert detects any shortcomings and needs through each user's answers. It provides immediate corrections and comments along with the score of the day:
+ Personalized explanations. For each answer, a personalized comment will explain why the answer is correct or incorrect.
+ Vocabulary à la carte. Select the words or expressions that interest you: they will be explained in the correction e-mail, and then we will review them.
+ Video transcripts. The correction includes the video transcripts and you can watch them again while reading the text.
---
4. Memorization and revision
Because not everyone makes progress at the same rate, the Rich Morning Show adapts to suit each student's needs. Every lesson is generated specifically for you, taking into account the answers you've given in the past and the things you find difficult.
Gymglish (who is editing the Rich Morning Show) is the first educational solution that takes into account the impact of time and memory on the learning process. For long-term memorization, our artificial intelligence engine (A9expert) designs an optimized revision program for each user.
Depending on each individual's learning speed and memorization capacity, the engine will define different time intervals for reviewing specific points.
We send you personalized corrections and explanations for each question and exercise in your lesson. We keep a detailed record of your course! To help you retain the new terms and expressions you learn, we review each point at timely intervals. Don't worry if you can't retain everything: we'll keep reviewing key points over time.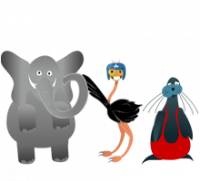 ---
The results
---
The Rich Morning course have four distinct stages: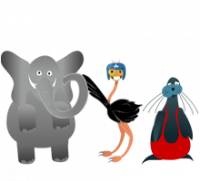 Round 1 : 21 personalized lessons with cartoons played at reduced speed, with subtitles.
Round 2 : 21 personalized lessons with cartoons played at normal speed, with subtitles.
Round 3 : 21 personalized lessons with cartoons played at normal speed, without subtitles.
Consolidation and revision.