Teachers and Language Schools
Assess your group's level, evaluate their needs and provide certified training, generate extra revenue, etc. Provide your students with a complement to their current language training with our blended-learning offer.
Create your Account for free.
By entering your email, you agree to our Terms of Use and consent to our Privacy policy (to summarize, we respect your confidentiality and right to privacy!). Since our lessons are sent by email, you will receive emails from us! You can unsubscribe at any time.
I am not a Teacher or a Language school representative.
Thank you!
We've sent you an email - please click the link within it to confirm your registration.
Oops!
Your request has not been taken into account because your e-mail address already exists in our data base.
- If you wish to re-test our course, please enter a different e-mail address.
- If you wish to contact our support team,
please click here.
Oops!
We weren't able to handle your request. Please contact our support team (support@richmorning.com) and alert them to the following message:


We apologize for the inconvenience.

The Gymglish team
---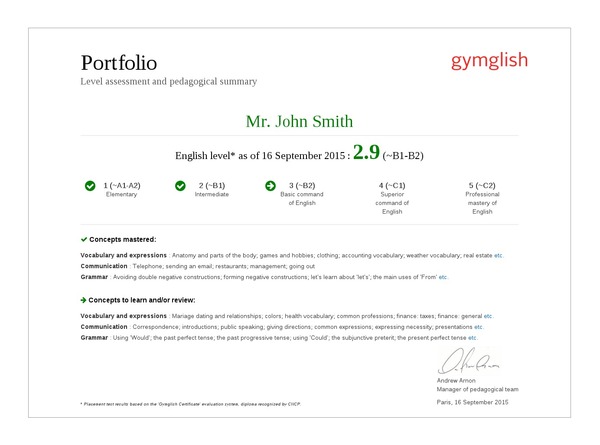 Level assessment
Our free test includes a level assessment and a Portfolio (a personalized pedagogical report).
Diploma & Certification
Upon finishing your training, Gymglish provides a certificate of completion including detailed statistics on progress and participation rate.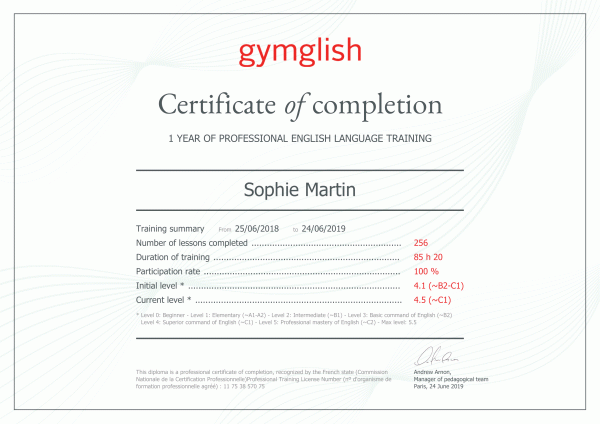 Extra revenue
Generate extra revenue from our high-quality, value-added educational service. Acquire new customers online. Create recurrent and long-term revenue with long-term subscriptions. Extend your customer life cycle.
Teacher Brief
Receive pedagogical information from your student(s) with an assortment of relevant, recently-covered points to be reviewed in priority: Specific student requests, recurrent and recent errors, revision needs, texts & audios from previous lessons, etc.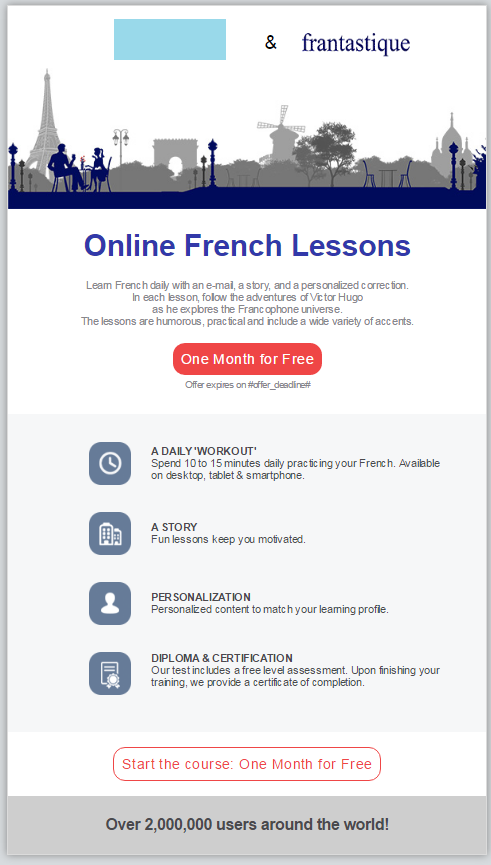 Communication & Marketing Kit
Easy access to up-to-date banners & marketing content, original content, websites and other fun content to share on websites, blogs, Facebook and other social media sites.
Teachers.gymglish.com
Offer your services on Teachers.gymglish.com to promote your courses to our user base of 4,000,000 language learners (all listings are free, we charge 10% on paid transactions).
---
Since its launch in November 2004, Gymglish has built up a network of partner language schools and teachers across the world.