Online English lessons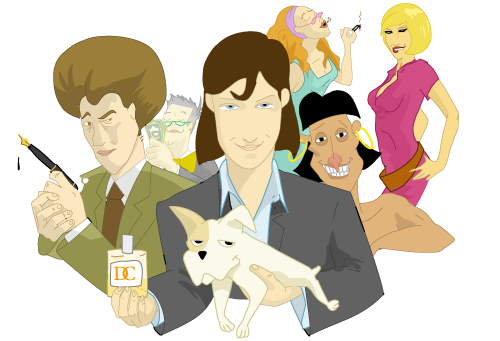 One month of FREE English lessons!
Gymglish offers online English lessons through daily e-mails. Each lesson introduces you to a new chapter of the Delavigne saga in San Francisco, with a touch of humor, Business English, a variety of accents and more.
Over 3 000 000 users around the world.
To activate your free month of lessons (special offer for new users, with no obligation to buy), just fill in the form below:
Наша политика включает положения о защите конфиденциальности ваших данных и права на конфиденциальность.
---
How we make learning easy for you:
1 Each morning you'll receive an e-mail with an assortment of written content and audio recordings. Each lesson takes fifteen minutes to complete and includes a story about the Delavigne Corporation with dialogues, questions, 'mini-lessons' and revisions.
2 After clicking the 'send' button, you'll receive your e-mail corrections with your score of the day, explanations on why you got each question right or wrong, transcripts of the audio recordings, the vocabulary you wanted to learn more about, etc.
3 The next lessons will be customized according to your previous answers, your expectations and your needs. Gymglish uses your mistakes to develop a personalized lesson plan for you.
---
Over
3 000 000

users around the world

---
A fun method for learning English effortlessly
---
What our users are saying
I am a fan of my English lessons and I really appreciate the work carried out by the Gymglish team. After all these years, I've finally improved my English and now I have no problem understanding conversations or watching films without subtitles. Steve (San Francisco)
Gymglish's English lessons use a non-traditional approach! They helped me improve my skills in only ten minutes a day! Now it's easy for me to speak English and understand conversations! Lia (Boston)
Your request has been taken into account. In order to help us better personalize your course, please complete the form below:
Наша политика включает положения о защите конфиденциальности ваших данных и права на конфиденциальность.
IMPORTANT: This English test is free of charge and involves no obligation on your part. You will not be signed up for the full version of our English lessons without specifically requesting to do so. In accordance with the Law of 6 January 1978 on data processing and privacy, you have the right to access and modify your personal data.
Gymglish: an English 'workout'. In each lesson, you'll follow the adventures of the Delavigne Corporation in San Francisco: full of humor, business English and a wide variety of accents. Each morning, you'll receive an e-mail in English with a variety of written and audio exercises. Gymglish lessons take 15 minutes to complete and include a story from the Delavigne Corporation, dialogues to listen to, questions to answer, 'mini-lessons', and a personalized revision program. After hitting the 'send' button, you'll receive a correction e-mail with your score for the day, explanations about why you got answers right or wrong, the vocabulary you wanted to learn more about, the scripts of the dialogues you listened to, and more. The Gymglish program was entirely created, edited and developed by the company A9 SAS.
Success! You will receive an e-mail with more details shortly. Download the Gymglish App for free:

IMPORTANT: In order to make sure you receive all the lessons, please add our e-mail address ('gymglish.en@faq.gymglish.com') to your address book or 'white list' of safe senders.


You may find this interesting:
Ваш запрос не будет рассмотрен, так как этот адрес эл. почты уже есть в нашей базе данных.
- Если вы хотите попробовать Gymglish еще раз, введите другой адрес эл. почты.
- Если вы хотите связаться с нашей службой поддержки
нажмите сюда:
Ой. Не удалось обработать ваш запрос. Свяжитесь с нашей командой поддержки (support@gymglish.com) и сообщите им о следующем оповещении:


Приносим извинения за неудобства.

Команда Gymglish