Online English lessons
Learn English with Gymglish.
Gymglish provides English lessons via daily, personalized e-mails or within an App. In each lesson, follow the adventures of the San Francisco-based Delavigne Corporation, featuring business content, humor, various accents and more.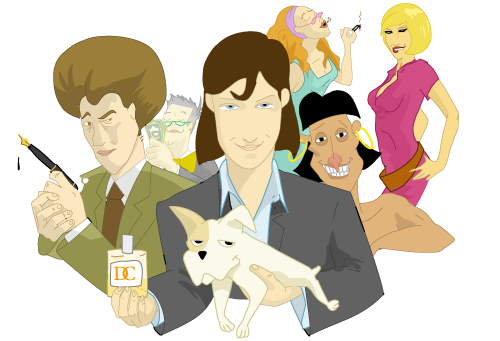 ---
How it works
1 Each morning you'll receive a lesson with an assortment of written content and audio recordings. Each lesson takes ten minutes to complete and includes a story about the Delavigne Corporation with dialogues, questions, 'mini-lessons' and revisions.
2 After clicking the ' send ' button, you'll receive your corrections with your score of the day, explanations on why you got each question right or wrong, transcripts of the audio recordings, the vocabulary you wanted to learn more about, etc.
3 The next lessons will be customized according to your previous answers, your expectations and your needs. Gymglish uses your mistakes to develop a personalized lesson plan for you.
Only 15 minutes per day to improve your English.
---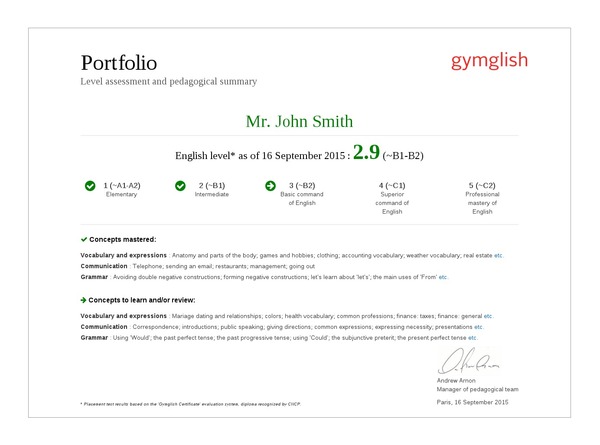 Level assessment
Our free test includes a level assessment and a Portfolio (a personalized pedagogical report).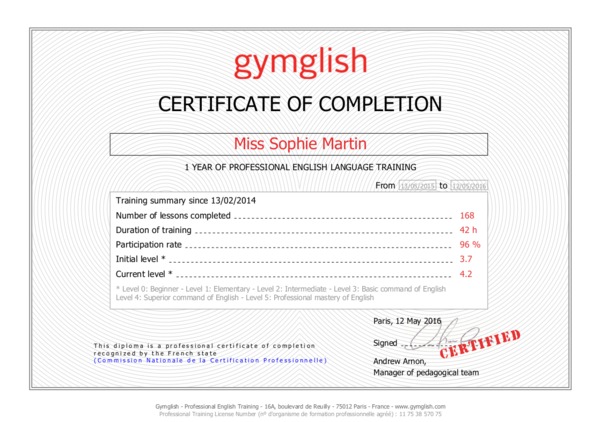 Diploma & Certification
Upon finishing your training, Gymglish provides a certificate of completion (Gymglish Certificate) including detailed statistics on progress and participation rate.
---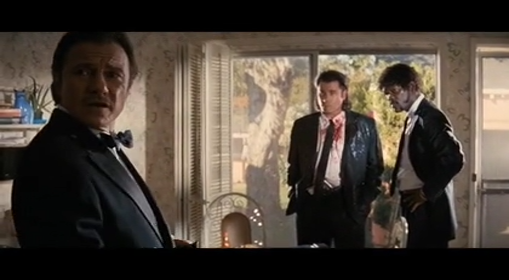 Authentic cultural references
In each lesson, Gymglish presents an authentic cultural reference (film, television, music, etc) linked to the story of the day.
---
A fun method for learning English effortlessly
---
Our references


After all these years, I've finally improved my English and now I have no problem understanding conversations or watching films without subtitles.
Samuel

Gymglish's lessons helped me improve my skills in only ten minutes a day!
Anna - More testimonials >
Over
3,000,000

users around the world
---
Opportunities for Professionals