Home >> English Vocabulary >>
Prize
Prize
English Vocabulary tips & definition with Gymglish.
Improve your English and try our online English lessons for free.
Definition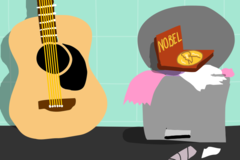 a prize: an award, a trophy, a reward
noun
the Nobel Prize A global prize awarded to the best people in their field (science, literature, peace, etc.)
Going further...
Still having difficulties with 'Prize' Test our online English lessons and receive a free level assessment!
Do you have smart way of remembering this rule? A tip to avoid making a mistake on 'Prize'?
Share it with us!