Introducing things: c'est, voici, voilà
French Grammar tips with Frantastique.
Learn French online and test Frantastique for free.
Introducing things: c'est, voici, voilà
When we want to present someone or introduce something, we use:
•
c'est, ce sont
with a
noun
or a
pronoun
PRONOMS TONIQUES
Cette femme, c'est ma mère. This woman is my mother.
Les deux garçons, ce sont mes frères. These two boys are my brothers.
- Allô c'est qui ? - C'est moi, Muriel. -Hello, who's there? -It's me, Muriel.
Lui, c'est mon frère. He's my brother.
• voici, voilà + noun
Mesdames et messieurs, voici Victor Hugo ! Ladies and gentlemen, here is Victor Hugo!
Voilà votre baguette. Here is your baguette.
Note:
C'est is used with singular nouns, nous and vous. Ce sont is used with eux and elles. In spoken French you will often hear c'est with plural nouns.
- Qui a volé mes bijoux ? C'est vous ? - Ah non, ce n'est pas nous, ce sont eux ! -Who stole my jewellery? -Was it you? -No it wasn't us, it was them!
- C'est qui ? - C'est mes parents. -Who's that? -It's my parents.
Pro tip:
Be careful not to confuse c'est with il est.
C'est Victor. Il est écrivain. This is Victor. He's a writer.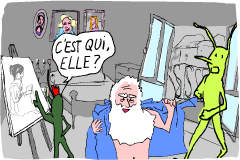 Go deeper...
Learn more about French grammar with us. Still having difficulties with 'Introducing things: c'est, voici, voilà'? Want to improve your French? Test our online French lessons and receive a free level assessment!