Home > Learn French Online > French Grammar Les commerces
Les commerces
French Grammar tips with Frantastique.
Learn French online and test Frantastique for free.
Les commerces
à la boulangerie
du pain, des croissants...
chez le boucher
de la viande, du saucisson...
à l'épicerie
des fruits, des légumes...
chez le fleuriste
des fleurs, des plantes...
à la librairie
des livres...
à la pharmacie
des médicaments...
au (bureau de) tabac
des cigarettes...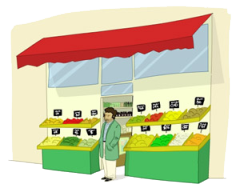 Go deeper...
Learn more about French grammar with us. Still having difficulties with 'Les commerces'? Want to improve your French? Test our online French lessons and receive a free level assessment!