Savoir ou connaître ?
French Grammar tips with Frantastique.
Improve your French and test our online French lessons for free.
Savoir ou connaître ?
Savoir
and
Connaître
are both translated as
to know
, however they are used in different contexts.
Here are some differences between the two.

SAVOIR

• une chose : to know a fact.
- J'ai toujours raison. - Je sais.
- I'm always right. - I know.

• + infinitif : to know how to do something.
Je sais parler français.
I know how to speak French.

• + que, comment, quand...
Je sais qu'il apprend le français.
I know that he's learning French.



CONNAÎTRE

• une personne : to know a person or to know that they exist.
Je connais Victor, nous sommes amis.
I know Victor, we're friends.

• un endroit: to know a place or have already visited it.
Je connais Paris, j'y ai vécu 3 ans.
I know Paris, I lived there for 3 years.

• une chose : to know something and have already seen it.
Je connais ce livre, je l'ai déjà lu.
I know this book, I have already read it.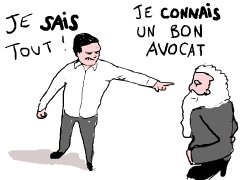 Going further...
Learn more about French grammar with us. Still having difficulties with 'Savoir ou connaître ?'? Want to improve your French? Test our online French lessons and receive a free level assessment!