Home > Learn French Online > French Translation > Adverbes de quantite
Adverbes de quantite
French translation & vocabulary with Frantastique.
Improve your French and test our online French lessons for free.
Quelques adverbes de quantité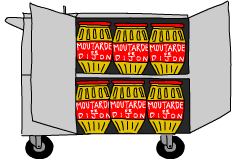 beaucoup (de)

:
a lot (of), many
220 millions ? Waouh ! C'est beaucoup. 220 million? Wow! That's a lot.
J'ai beaucoup d'amants. I have a lot of lovers.
(un) peu (de)

:
(a) little, a bit (of)
- Tu as peur ? - Oui, un peu. -Are you scared? -Yes, a little.
Je voudrais un peu de sel, s'il vous plaît. I would like a bit of salt, please.
Je n'aime pas du tout les olives. I don't like olives at all.
---
Going deeper...
Still having difficulties with 'Adverbes de quantite' Want to improve your French? Test our online French lessons and receive a free level assessment!
---
Do you have smart way of remembering this rule? A tip to avoid making a mistake on 'Adverbes de quantite'? Share it with us!
Improve your French further and test Frantastique, online French lessons for free.