Home > Learn French Online > French Grammar L'adjectif « tout »
L'adjectif « tout »
French Grammar tips with Frantastique.
Learn French online and test Frantastique for free.
L'adjectif « tout »
Tout
+ masculine singular noun
♂
Tout le monde est là. Everyone is there.
Toute
+ feminine singular noun
♀
J'ai conjugué toute la nuit. I worked all night.
Tous
+ masculine plural noun
♂♂
Tous les garçons sont en bleu. All the boys are in blue.
Toutes
+ feminine plural noun
♀♀
J'adore toutes tes idées ! I love all your ideas!
Some expressions using tout:
tout le temps all the time
en tout cas in any case
tout droit straight ahead
tout à l'heure soon/recently
tout de suite right away
tout à fait absolutely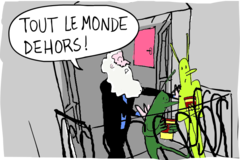 Go deeper...
Learn more about French grammar with us. Still having difficulties with 'L'adjectif « tout »'? Want to improve your French? Test our online French lessons and receive a free level assessment!