Les pronoms interrogatifs
French Grammar tips with Frantastique.
Improve your French and test our online French lessons for free.
Les pronoms interrogatifs

Interrogative pronoun
Où
Where
Où est ma casquette ?
Where is my cap?
Que
What
Que voulez-vous ?
What do you want?
Qui
Who
Qui a mangé mon gâteau ?
Who ate my cake?
Comment
How
Comment allez-vous ?
How are you?
Quel
Which/what
Quelle est la plus belle voiture ?
Which car is the most beautiful?
Quel est votre numéro de téléphone ?
What is your telephone number?
Quand
When
Quand est ton anniversaire ?
When is your birthday?
Quoi / Qu'est-ce que
What
Ils veulent quoi, exactement ?
What do they want, exactly ?
Qu'est-ce qu'ils veulent, exactement ?
What do they want, exactly ?
Pourquoi
Why
Pourquoi apprenez-vous le français ?
Why are you learning French?
Combien
How much / how many
Combien coûte ce tee-shirt ?
How much does this tee-shirt cost?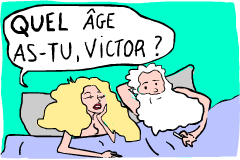 Going further...
Learn more about French grammar with us. Still having difficulties with 'Les pronoms interrogatifs'? Want to improve your French? Test our online French lessons and receive a free level assessment!