Home > Learn French Online > French Grammar L'infinitif
L'infinitif
French Grammar tips with Frantastique.
Learn French online and test Frantastique for free.
L'infinitif
We use the infinitive:

• To give advice, warnings or orders.
Découper le poulet. Carve the chicken.
Ne pas fumer ici. No smoking here.
• After a conjugated verb.
Je voudrais boire un verre de vin.
vouloir, conditionnel présent
I would like to drink a glass of wine.
Muriel doit écrire un courriel à M. Therrien.
devoir, présent
Muriel needs to write an e-mail to Mr. Therrien.
• After the preposition pour.
Tu es en France pour apprendre le français ? You're in France to learn French?
Reminder
: The French infinitive verb form is classed into 3 groups: verbs ending in
-er
, verbs ending in
-ir
, and a third group of verbs
(comprendre, naître, etc.)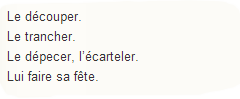 Go deeper...
Learn more about French grammar with us. Still having difficulties with 'L'infinitif'? Want to improve your French? Test our online French lessons and receive a free level assessment!