The infinitive
We use the infinitive:

• To give advice, warnings or orders.
Découper le poulet. Carve the chicken.
Ne pas fumer ici. No smoking here.
• After a conjugated verb.
Je voudrais boire un verre de vin.
vouloir, conditionnel présent
I would like to drink a glass of wine.
Muriel doit écrire un courriel à M. Therrien.
devoir, présent
Muriel needs to write an e-mail to Mr. Therrien.
• After the preposition pour.
Tu es en France pour apprendre le français ? You're in France to learn French?
Reminder
: The French infinitive verb form is classed into 3 groups: verbs ending in
-er
, verbs ending in
-ir
, and a third group of verbs
(comprendre, naître, etc.)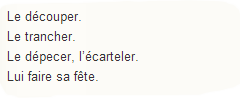 ---
Learn more about French grammar with us. Still having difficulties with 'The infinitive'? Want to improve your French? Test our online French lessons and receive a free level assessment!
Looking to improve French for beginners? Frantastique provides effective and fun training!
Tips for learning 'The infinitive'? Share them with us!
---