Job offers > Front-End Developer
Front-End Developer (Paris, France)
Internship 2019
Gymglish is a Paris-based company founded in 2004. We offer innovative language learning solutions online using personalized content, an expert learning system and a team of creative content writers. Our aim is to keep learners engaged and motivated thanks to fun, short, content personalized to their needs. Our courses are used by over 3 million people worldwide, including over 6000 businesses and 100 partner schools and universities. The Gymglish team is made up of 25 people of 9 different nationalities. We speak 10 different languages (not including made up ones like Java, Swedish and C++).
Front-End Developer
We are looking for an experienced front-end developer to help us create nice and engaging interfaces for our products. You will be working with all team members to make awesome and engaging responsive screens using HTML/CSS and Javascript, and libraries like React, Angular, jQuery etc. You'll be actively involved in the entire process from idea to deployment, and you must be autonomous and know your way around Linux. Our backend is written in Python running on Linux. We use libraries and tools like Bootstrap, Grunt, Less, Django, JIRA, Google Apps, etc. We like code documented and with unittests, and we peer review our commits. We love open-source software.
You will be working in close collaboration with our backend engineers. You'll have the opportunity to learn and share, work with nice colleagues and be part of a growing team, sharing experiences and helping to create a good working environment. We value our company culture.
The position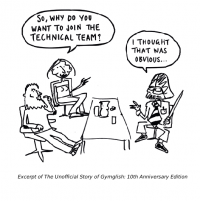 Front-end developer.
General front-end and python web development of existing and future products: specification, suggestions, CSS, Javascript and some frontend frameworks.
Possibility to rapidly obtain responsibilities and have lots of autonomy.
What we are looking for
A developer passionate about creating products and solving problems.
Very good front-end and general programming skills.
Very good HTML/CSS and Javascript.
Experience with Angular or ReactJS. Python experience is a plus, and you will quickly need to become proficient with python.
Some Linux experience.
Very good and clear communication (oral and written) in English.
Self-driven and keen on learning new things.
Bonus points for
Experience or interest in design, usability and ergonomy.
Knowledge of French or other languages and the capacity/motivation to learn.
More information
Contract: minimum 3 months.
Location: Paris, France.
Availability: ASAP.
To apply for this position: Please send your CV and a short cover letter to jobs+frontintern2019@gymglish.com.
---
If the prospect of joining a young, small company and working closely with a team of talented, motivated individuals interests you, get in touch! More about us, our products, sites, apps and team: