About us
Founded in 2004, Gymglish creates fun adaptive learning courses for languages and more based on regular sessions to optimize long term gains and memorization.

Our team is made up of 50 people, of 20 different nationalities (25 languages) and we are all passionate about languages and innovation. We are based in Paris (France).

Our objective: to offer effective digital education to learners worldwide, a more enjoyable user experience with better knowledge retention.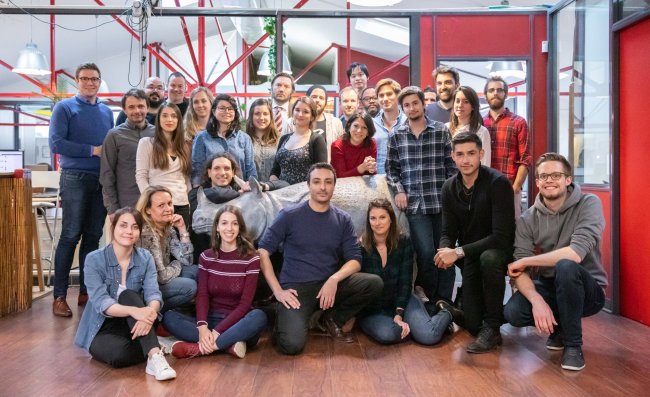 Gymglish social impact manifesto
When our marketing team asked us to write a manifesto, we immediately thought of our favorite manifestos: The Bill of Rights, the Anarchist Cookbook and the Communist of course. If our manifesto could be anything like these, we'd be in pretty good shape, or possibly in jail.

It turns out that the manifesto they requested was less political, and more of a statement of our values as a company. So here it is, our best effort to summarize the values of Gymglish, with a margin of error of 10-15%. Values are non-binding and non-refundable.
---
Founded in 2004, Gymglish creates fun adaptive learning courses for languages and more based on regular sessions to optimize long term gains and memorization.

Our company actively supports European and inclusive values. We strive to facilitate access to education, ensure fair treatment for our employees, customers, partners and suppliers, and try in our own small way to contribute to the protection of our environment.
The client is King... or at least a duke or duchess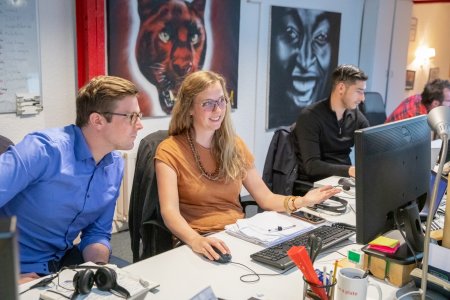 For our clients: we deliver training that leads to certification, based on a continuous evaluation process, with the aim of enhancing the employability and skill set of our learners, from students to employees and job seekers. To enable us to work with diverse audiences and to strengthen our social impact, we practice differential pricing, offering companies, universities and individuals certified training at prices ranging from 60 to 600 euros.


In 2005, we set up our 'Social Impact' program with the objective to provide free English and French lessons to people already receiving help from partner universities, educational institutions, associations and social organizations. Since Gymglish was founded, we have provided more than 25,000 training courses to students who are disadvantaged, retraining, or in vulnerable situations (job seekers, marginalized communities, migrants, etc.).
Sharing the cake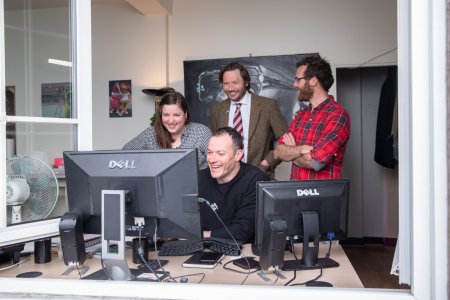 In 2006, we established a profit-sharing plan for our employees, distributing 50% of our net profits to our staff, rewarding our employees in priority over external shareholders. Our team also benefits from a Company Savings Plan, matching and topping up the team's contribution by up to 300%. Furthermore, about half our employees are shareholders in Gymglish and make up a second "pool" of shareholders, after the founders and before financial investors.
Partners in crime
We share our revenues with our language school, teacher and media partners, paying commissions ranging from 30% to 50%. In the context of low-profit margins for many education professionals, this boosts income while also strengthening online presence. To develop brand awareness without devoting too many resources to advertising, we have developed a community of professional partners, consisting of language schools, teachers and specialized media. We are happy to share our added value and the resulting revenue with our partners, and they are happy to introduce their customers and audiences to our language courses, which they have tested and approved. This is all done without any advertising intermediaries! For our media partners (Le Monde, Courrier International, Süddeutsche Zeitung, and Neue Zürcher Zeitung among others), these partnerships provide sources of income other than advertising, enabling editorial quality to be preserved and reducing dependence on big tech groups and social media platforms.
Freelancers deserve love too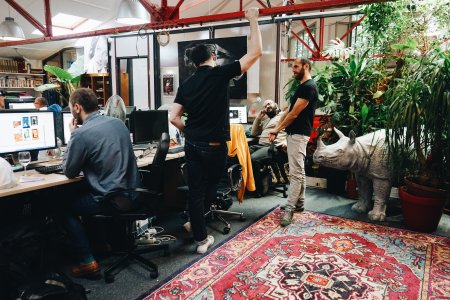 For our suppliers, we make every effort to ensure that payment times remain as short as possible and are usually well below the legal limit of 30 days. Our goal is to give preference to suppliers who respect the environment, human rights, labor laws, safety and any factors contributing to social well-being.
Global warming - it's all our fault
To do our small part for the planet, we created Greenglish in 2005, a set of internal initiatives to minimize our impact on the environment (recycling, carbon neutrality, contributing to eco-friendly businesses, etc.). While we realize our contribution is modest at best, Greenglish attempts to take concrete actions that ensure a healthier relationship between company growth and the environment.
Do it for Europe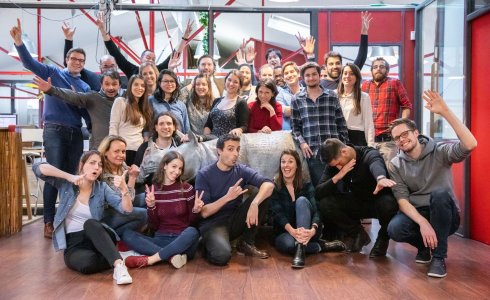 Gymglish is a French company based in Paris, but we identify as European. We would not have been able to flourish and grow for 15 years without the Schengen Area, which facilitates relationships with European customers, suppliers and partners on a daily basis, and which has enabled the recruitment of many talented European members of our team. Currently, Gymglish is made up of 20 nationalities, 12 of which are European. Collectively, our team members speak more than 25 languages and are all committed to education and the use of new technologies.


One of our core beliefs is that responsibility to improve society is not limited to governments and public authorities. Solidarity, sharing and respect are key values in all spheres: at the national and international level, and also within cities, municipalities, neighborhoods, families, communities and of course businesses too.


A final word
We created Gymglish 15 years ago within a highly competitive market, with a view to not only launching a new style of online courses, but also increasing user participation and motivation.

Our aim is to offer more effective digital education to learners all over the world through a more engaging user experience and providing better retention of the material learned. Our tools are a combination of cutting-edge technology and "fun", relevant content.




Magic Numbers - Some key Gymglish figures:

40 employees

6,000 client companies using Gymglish courses

80% participation rate on average for our online courses

400 partner languages schools and universities

27,000 free licenses issued to our partners
Our goal: your motivation, participation and progress.
---