Training workshops
With 15 years of experience in the online language market, we have the expertise to help you create your own online training courses in order to promote student engagement, participation and motivation.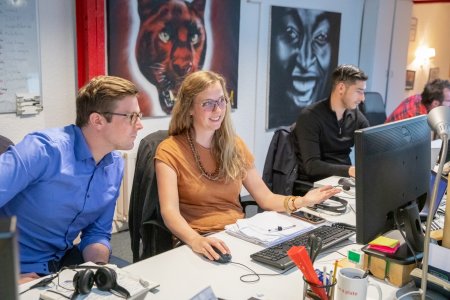 ---
Step 1: Training workshop and prototype
Objective: Creating a testable Alpha version of your new course using Gymglish's methodology, approach and technology.
Gymglish provides:
Training on Gymglish's adaptive learning engine and pedagogical tools
The keys to boosting user participation
A tutorial on Gymglish's simple Studio interface
The design of a prototype course with your content in the Studio
Testing of your prototype with a panel of learners
A feedback form at the end of the test and analyze results
A final report and recommendations for a marketable Beta version
Prices start at €15,000 + VAT depending on partner needs.
---
Step 2: Beta version and launch
Objective: Creating a marketable micro-learning course
Gymglish provides:
Coaching and assistance from both our content and technical experts
Technical and marketing advice to optimize your training course, with follow-up
Training and access to our Back & Front Office Infrastructure: customer and user pro accounts, online registration page, online shops, follow-up and analysis of the different phases of the product creation
The organization and execution of the Beta launch
---
Phase 3 : Growth
Objective: expanding and adding value to your training program
Gymglish provides:
Analysis of feedback, and adjustments based on user feedback and needs
Creation of new products using the same technology and methodology for new markets
---